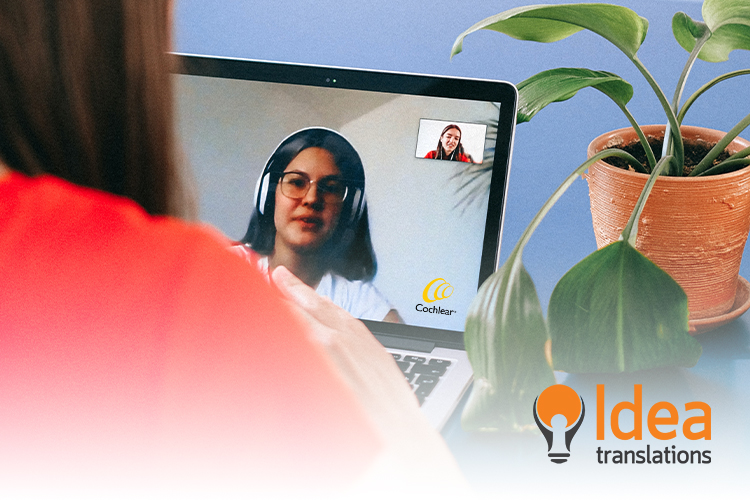 The year 2020 has been a turning point for the use of video conference platforms, particularly in the field of education. Before 2020, learning institutions and departments were wary of remote lessons, but the "new normal" brought about a whole new set of challenges in the online environment, as well as opportunities for growth and new communication tools.
At the core of this change lies a big opportunity: Things that seemed impossible in a traditional education setting are now feasible with the digital tools available. Specifically, we now have the opportunity to teach and train in multiple languages for a larger audience in the same session.
How is simultaneous interpretation faring in platforms such as Zoom®, Google Meet® o Microsoft® Teams? What are the new tools that have become available?
In the case of companies and learning institutions, Zoom has become particularly common. This platform supports an interpretation feature in a large variety of languages. The host can select the languages and add interpreters almost as easily as they add participants or co-hosts.
In turn, participants or students can easily select their language of choice: they can hear the translated audio and the original audio in the background, at a lower volume. However, sessions recorded in the cloud will only include the original audio, not the translations. But, if a user records the audio feed from their device, they will record the translated version and not the original.
In April 2020, 90,000 schools in more than 20 countries were using Zoom for lessons.

Source: Zoom
Zoom supports a feature that allows the host to select any user to act as an interpreter, which has enabled conferences and seminars with tens of thousands of participants, as well as lessons in institutions of all kinds and sizes. Professional simultaneous interpretation services can be seen in action, covering several languages, particularly in conferences.
Beyond Language: New Interaction Opportunities
During this pandemic, eLearning has become the tool of choice for training. You can not only learn from anywhere in the world, but also manage your own pace and use any device (smartphones, desktop computers, notebooks, tablets, etc.)
But when it comes to live content, the best tool will always be simultaneous interpretation. If using audio, the sound quality needs to be optimal for interpreters to translate; if using video, subtitles must be generated; if using a survey, it should be displayed in the different languages, or allow enough time for on-sight translation.
Webinars or Training Sessions Using Simultaneous Interpretation: 5 Tips for Success
Planning, planning, planning. That is the key to ensure a successful simultaneous interpretation. These are 5 basic tips:
1. Schedule: Plan the duration of the lesson or conference considering that, for the interpreter to work comfortably, the pace of the lecture needs to be reasonable. Do not seek to fill absolutely every second of the assigned time, because this may lead to a rushed interpretation.
2. Audio and Video Settings: If you are the host, check all audio and video settings for participants, in order to minimize disruptions during the meeting. If you want participants to be muted from the start, don't forget to check the settings.
During the pandemic, Zoom increased its earnings 326% and its users more than 400%.

Source (in Spanish): El País
3. Meeting Rules: State the rules for the meeting beforehand. If you are doing a Q&A session, state the time allowed for each question, any areas that are out of scope, etc.
4. Connection Issues: There are some steps you can take beforehand to minimize potential issues, such as rehearsals, activating video for the speaker only, advising participants not to perform other Internet-heavy activities during the meeting and sharing the files at the end of the session. If at all possible, have an alternative plan at hand —as long as it does not involve the speaker having to use their smartphone as a mobile hotspot.
5. Translation Service: Take the time to find the right simultaneous interpretation service for your needs. If you are hosting a meeting that will be carried out in several languages, effective professional interpretation services are the key to success. The speaker may give an excellent presentation, or be a renowned expert in their field, but that may never reach the audience without good interpretation.
Tips and Secrets for Simultaneous Online Interpretation
A simultaneous interpretation service may open endless growth opportunities for companies, organizations and learning institutions. There are, however, certain details that need to be polished for communication to succeed.
There are two key factors:
1) Rehearsals and Stage Setting: As explained above, only through planning, rehearsal, considering alternative connection sources and scheduling will we ensure that the meeting runs smoothly on time. In addition, rehearsals allow people to become familiar with the tool and its features, as well as the content, so as to be able to manage time with precision. "The harder I plan, the luckier I get".
2) Quality of the Professional Simultaneous Interpretation Service: Translation is a complex art. The simultaneous interpretation professional need to be provided of the context, analyze the intended audience, choose the right style, and be able to study the contents or presentations beforehand, among other things. True professional interpreters do not improvise, they will ask you for a lot of reference content and context: Interpreters do research and read a large amount of news and documents in advance to minimize any surprise during the live event.
A World Without Borders
In a fully globalized world, and thanks to technological breakthroughs, reaching audiences around the planet is easier than ever. In this context, simultaneous interpretation enables all kinds of events: congresses, courses, conferences and much more, breaking barriers and reaching a seemingly endless audience. However, success will depend largely on the professional team behind the screen.
Only specialized simultaneous interpreters can ensure the content reaches the audience in the intended format and without unnecessary noise, removing the obstacles imposed by physical distance and language differences.