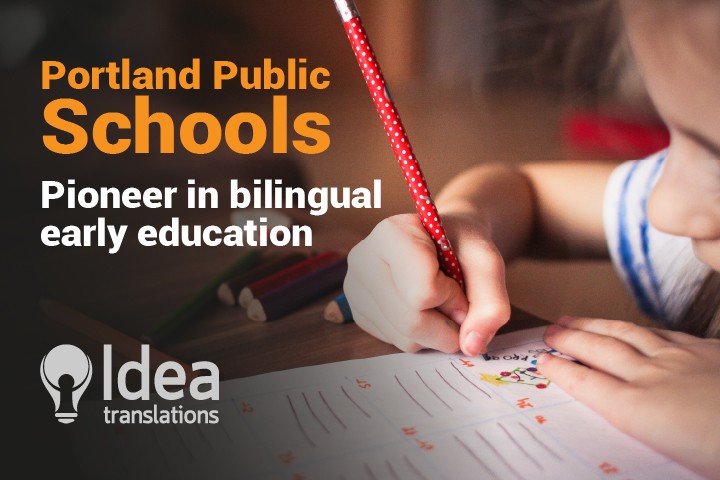 Portland Public Schools is a PK-12 urban school district founded in 1851 in Portland, Oregon. Nowadays, it has more than 49,000 students in 81 schools; it is one of the largest school districts in the Pacific Northwest.
With highly trained teachers and staff, an engaged parent community and strong partnerships, PPS is at its highest graduation rate in the last 15 years, and it's enjoying its seventh straight year of enrollment growth. Within its Dual Language Immersion program, there is a focus on closing the racial educational achievement gap by improving reading achievement in native and non-native speakers alike. One in ten PPS' students is in an immersion program.
PPS came to Idea Translations with a large project in mind; they needed preschool and elementary school educational materials translated for their Spanish Dual Language program. They had over 10 guides averaging 350 pages each that required translation within 8 weeks, just before the beginning of the school year. Additionally, they had work sheet assets requiring extensive graphic design and formatting.
Idea Translations' team had to work simultaneously with three translation, editing and proofreading teams and eight graphic designers, all in a synchronized manner.
More than 600,000 words translated to improve quality of education. Closing the education gap between the US and the leading nations in Europe and Asia.
The outcome? With the help of Idea Translations, PPS was able to start the school year with their student content ready for their bilingual program. Portland is a pioneer in bilingual early development education in the country, reducing the education gap between the US and other European and Asian countries.
We are now getting our engines ready for the next school year as PPS bilingual education program expands to all elementary and middle school grades.