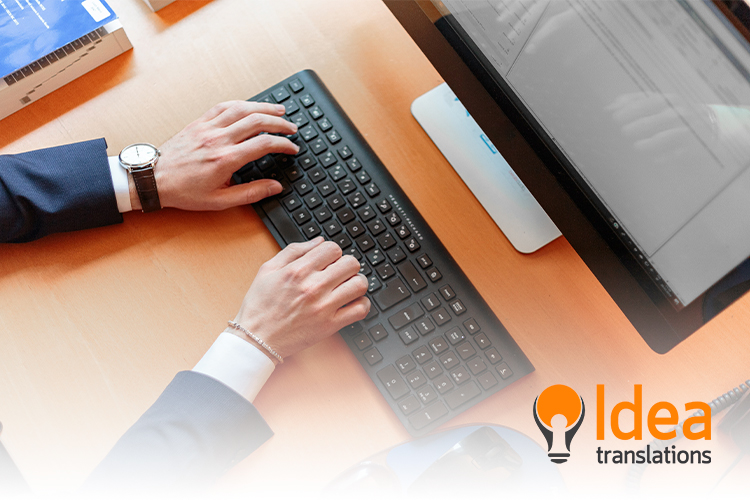 Scalability —the ability of an organization to grow and win more clients— implies taking several tactical decisions. One of these decisions includes defining how to translate our content in a way that supports our goal of expanding to new markets without losing our unique identity. Quality holistic translation services are vital to achieve this goal.
What do we need to consider when choosing a holistic translation service?
Translation Alternatives
Machine translation is not recommended when we are seeking to expand to new markets and regions. It has been proven time and again that software cannot replace the accuracy and the understanding of context that professional linguists and specialists have, or properly interpret different kinds of content.
When there is a human element in machine translation, errors are reduced between 33% and 50%.
Source: University of Maryland
There is an abundance of companies and freelance linguists who offer translation services, but not all of them have the experience and multidisciplinary experts required to tackle complex projects. Once again, professionalism is the key.
However, it is not easy to see which companies are in a position to provide excellence work and what is the criteria to consider.
Expanding a brand with the help of experts offers many advantages, like the possibility of reaching global audiences in a significant way.
High-Quality Translation Services: How to find them
There are hundreds —perhaps thousands— of organizations that promise high-quality translations, but there are certain elements we need to look for if we want to ensure high-value results:
● Specializations and Expertise. These two words may seem synonymous, but they are not. High-quality translation companies do not rely solely on a broad knowledge of linguistic and grammatical structures: they also have a deep understanding of the content at hand and the context where it will be used.
Translation is about understanding, analyzing, being aware of the context and reformulating ideas. Therefore, when the goal is to carry our voice to potential clients in different regions, we need to avoid ambiguities and misunderstandings with expert contribution and knowledge.
● Experience. The longer the experience of a language services company, the more challenges they will have faced to provide those services; for example, looking around the world for a translator specialized in a certain dialect for a specific project. Experience will ensure that the end users of the translated material have a seamless experience according to their preferences, no matter where they are.
● Professionals with diverse sets of skills. In an interconnected planet, translation companies that make a difference offer comprehensive solutions through a team that includes language experts, graphic and web designers, coders, and e-learning, digital marketing and platform experts, among other contributors.
● ISO Standards. In addition, some companies offer the assurance of being certified with specific international quality standards for translation services. Every process needs to be supported by global standards, such as ISO 9001:2015 and ISO 17100, which guarantee the quality of the services and the expertise of everyone involved, such as translators, editors and proofreaders.
● Data Protection. Data and information protection is another key factor, particularly if a document includes content that is strategic for the company. Moreover, it is important to find a translation service provider that is familiar with the regulations in place in each country, as well as international regulations, to avoid penalties or legal issues.
● Cost-effectiveness. In addition to looking for a reputable agency, it is advisable to analyze how cost-effective an option is; if we choose machine translation because it is affordable, we run the risk of spending more resources to improve and/or rework the translation.
● Technology. Today, technology has an increasingly important role in the way we do business, and it is crucial to have a linguistic services partner that provides us with the tools to facilitate and accelerate translations. Ask your potential provider about technology tools, such as Translation Management Platforms and Computer Assisted Translation (CAT) tools.
Some aspects to inquire about to ensure a high-quality translation are: what services are offered by an organization, which are their human and technology resources, what processes they follow to complete projects, how they communicate with clients, what are their certifications, what is their experience with translations and in how many countries they operate.
Content that Links to Growth
People around the world are increasingly requiring authentic content that responds to their expectations and needs. In this scenario, brands need to expand to new markets, with a focus on empathy and the search for a message that can reach its destination effectively in a way that is adaptable to our new multicultural demand.
Multicultural consumers account for 40% of the US population.
Source: Nielsen
When choosing the best alternative to translate our content, we need to assess each one of these aspects in detail and with care, since this will not only strengthen the position of our brand in other markets, but also build trust with potential clients.
At the end of the day, choosing the best alternative might include saving time and money as vital elements. However, to support and maximize the efficiency of our organization at a global level you also need to think what value the organization will bring to your expansion efforts and the return on investment from that partnership.