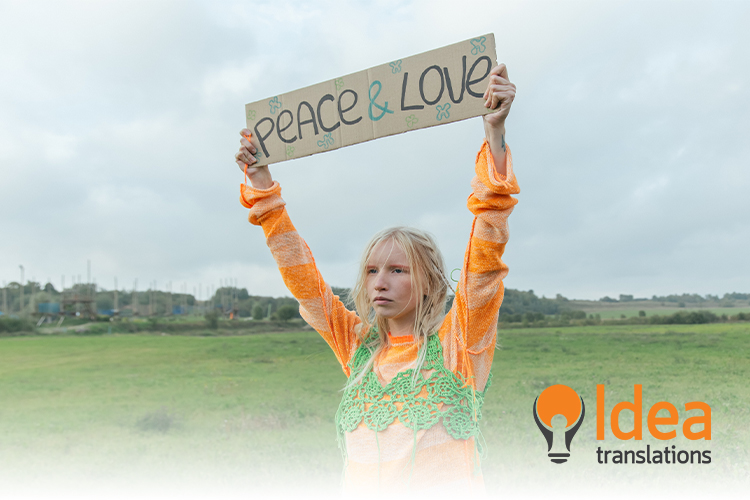 "The duty of a translator is to be a mediator between cultures and promote peace and freedom of speech; it is to denounce openly violence and lies. Translation is possible only as a free transfer of languages, ideas, cultures and attitudes", was the warning issued in a statement issued by about 300 philologists, literary agents and representatives of publishing houses from more than 55 countries, who attended the Third International Congress in Moscow.
The current armed conflict between the Russian Federation and Ukraine highlights a sensitive topic: What is the role of translators and interpreters during war?
A Personal Commitment with their Work
"We are fighting for survival. We are fighting to be equal members of Europe. Prove that you are with us. Do prove that you are indeed Europeans and then life will win over death and light will win over darkness", said Volodymyr Zelensky, the Ukrainian president, in a videoconference held in early March with the European Parliament, to request support in the war against Russia.
Zelensky's speech was translated simultaneously to several languages by several interpreters, and the translator into English drew notice among her peers.
While translating from Ukrainian, she was unable to hold back tears. Her voice notably broke when Zelensky mentioned the attack on Kharkiv, the second biggest city of the country, which resulted in at least a dozen deaths. "This morning, two missiles stroke Freedom Square. Dozens of people are dead. This is the price we pay for our freedom, for our land", Zelensky stated. The strong words of the president moved the interpreter to tears.
The Allies Refuge Operation allowed 123,000 people to leave Afghanistan, including 6000 American citizens and tens of thousands of Afghan citizens at risk. Source: U.S. Department of State
In the last decades, research has highlighted the role of translators and interpreters in processing military data, as well as facilitating communication between the armies, the local population and the media. And many times, they are even taken as war prisoners or punished for their task, as was the case of thousands of Afghan citizens who collaborated with the British army to fend off the advance of the Taliban and the translators who were received in the United States in the Allies Refuge Operation.
A Passion and a Challenge
The communication issues that translators and interpreters solve every day as part of their jobs are taken to critical levels during war times, as evidenced in the current European conflict. And still, they are out there, risking life and limb, in very dangerous scenarios.
Among them we could mention Maksym, the translator for the Spanish coach of a Ukrainian soccer team. When the conflict broke out, this man accompanied his friend to the border with Hungary so that he could escape, but he came back, even though his wife and children live in Spain.
This is how Oleana Davie, a Ukrainian interpreter, explains her passion for the profession: "As a child growing up in the Soviet Union, I remember telling my parents at the age of 12 that one day I would be an interpreter. I had such a love for languages and communication. I do this work because I want to be a voice for people who cannot speak the language."
And beyond the obvious need for interpreters and translators in the midst of an international crisis, these professionals serve many other needs during this type of conflict. In Denmark, for example, city officials scrambled to find experienced language professionals as hundreds of Ukrainian refugees started arriving in the country. The exact same thing happened in other countries who welcomed refugees.
Poland received the greatest number of Ukrainian refugees —with more than 2.1 million— followed by Romania, Moldavia and Hungary. Source: Statista
Whatever their specific role during armed conflicts —whether working for governments, armies or the media— what remains unchanged is the commitment of translators and interpreters to their job.
Since the dawn of times these professionals have been a bridge in the process of intercultural communication. Without interpreters and translators, people in vulnerable situations would not have a voice, they would not be heard.
In this respect, as stated by the International Association of Conference Interpreters (AIIC), "interpreters should at least enjoy the same levels of protection as journalists or aid workers. Ultimately, we seek a special status, similar to that which helps to protect the staff of organizations such as the International Committee of the Red Cross, to protect interpreters in danger worldwide."